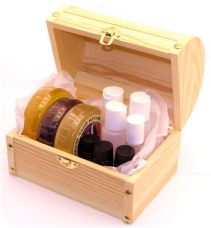 It is that time of year again, where we think about colds and flu, and how to avoid getting sick! The latest on coughing and sneezing techniques is to use your sleeve, instead of your hands! This allows the fabric to absord the bacteria and viruses and allow them to dry out and theoretically, die.
Here at
Clearwater Soap Works
, we think this is a great idea, but until everyone does this, there's nothing like washing your hands properly and often! We have a great selection of
natural transparent soap
that is gentle to your hands, but also cleans thoroughly. Our Tea Tree & Clove bar has been specifically formulated with bacteria-fighting
essential oils
to help prevent you getting sick in the first place.
We also have a
Body Care Kit
made for Cold & Flu season. It combines 3 bars of soap, massage oils, essential oils and essential oil blends to help you feel better and get well sooner (Or, if you buy now, maybe even prevent you getting sick at all!). Buying a kit is super easy, and you even save money!
Check out our online store for new items, such as our
Limited Quantity Essential Oils
,
New Carrier Oils, and Raw Materials
!